Welcome to the Illinois Association of Retired Firefighters
In 1982, The Illinois Association of Retired Firefighters was formed to assist retired and/or disabled firefighters to continue being an integral part of their community. The IARF allows the retiree to maintain contact with friends and co-workers, continue to be informed about problems of retirees, and keeping up to date with solutions to financial problems faced by Firefighters. IARF currently has 26 local Clubs chartered throughout Illinois, in cities like Rockford, Joliet, Peoria, Bloomington, Decatur, Quad Cities, Springfield, and Belleville. Each local club continues to work with and support area AFFI Locals, and we continue to be members of the Associated Fire Fighters of Illinois.
The local clubs plan activities such as visiting elderly members, and staying engaged in the community. They encourage the disabled and/or retired firefighters to visit any brother or sister who is hospitalized or is home bound, and to participate in Silent Watch duties for any members who pass.
The Illinois Association of Retired Firefighters began publishing a bi-annual magazine, Disabled and Retired Firefighters, as a way of informing retirees about other clubs activities in their communities including charity work, public education, visiting the sick and infirmed, and political activities.
Local Clubs have engaged in such activities as; working with the AFFI Local to build a home ramp for disabled MDA spokesperson. IARF have donated to a retiree whose wife had a stroke, and donating to Operation Santa, an organization that sends Christmas stockings to deployed heroes. Our current focus is to encourage our retiree clubs to join with the active fire fighters in their community service activities, such as their "Fill the Boot" Drive for MDA, "Shop with a Fireman" for underprivileged children during the Christmas season, visiting hospital bound children at Christmas, placing flags on graves of brothers who have passed and many other charitable activities. This alliance between the active Fire Fighters and the retirees will be our focus moving forward. Our members have served their communities during their entire careers. They are continuing this effort into retirement. We need your help to continue these efforts, to help IARF protect our retired heroes and support our charities. Any sponsorships and/or donations will be greatly appreciated.
Follow us on Facebook. Thank you in advance for your generous support of our retired firefighters.
Electronic IARF Magazine
The IARF is proud to announce you can find our Spring 2020 IARF Magazine by clicking here. You can download and print it out if you like. You can also find past Magazines on our Archives page.
Firefighters Pension Investment Fund
Please click HERE to visit the Firefighters Pension Investment Fund website for valuable information about your benefits! The Firefighters Pension Investment Fund ("FPIF") is responsible for investing the assets of the 291 suburban and downstate firefighter pension funds. A 9-member Board of Trustees made up of 4 active firefighters, 1 retired firefighter and 4 representatives of employers governs the Fund. The Trustees are fiduciaries for the participants and beneficiaries of the participating pension funds and discharge their duties solely in the interest of the fund participants and beneficiaries. The Fund's goal is to provide above market returns at below market costs. The Interim Board of Trustees was appointed by Governor Pritzker on January 31, 2020. The Board is in the process of building out its capabilities and complying with its mandate to have assets transferred by July 1, 2022.
Message from President Sullivan
Dear Brothers & Sisters:
I was honored and humbled to receive the full support of the AFFI Executive Board yesterday when they voted to elect me to be the President of this phenomenal organization. It is an enormous responsibility that I am fully prepared to accept. Having spent the last 11+ years as an AFFI Legislative Representative I am well aware of how hard your entire Executive Board and Staff works each and every day for our membership.

I am fully committed to working on behalf of our 15,000+ firefighters and paramedics across the state. Each of our affiliates have unique situations and concerns and you can be assured that this Executive Board will continue to do everything in our power to ensure our members and affiliates are served well and represented professionally.

The AFFI has a busy schedule ahead. The Vice Presidents will be in countless union locals assisting with negotiations and grievances, our Legislative Representatives will begin the second year of the 101st General Assembly and our staff will continue doing their behind the scenes but extremely vital work. We have various seminars and conferences scheduled and in June our delegates will convene in Peoria for the 2020 AFFI Convention and set the course of our Union for the next 2 years.

I could go on for pages describing what else our organization is doing in 2020 but suffice it to say, we will be active, and we will be doing it together. As always, you are encouraged to contact your district Vice President or Legislative Representative with any questions or concerns you may have.

It is my plan to travel around the state to see those I have met previously and talk with those I have not yet had the pleasure of meeting.

I am excited and energized to lead our union forward. I had the opportunity to watch and learn from President Devaney. His tireless efforts and knowledge inspired me on a daily basis. I cannot think of a better person to learn from and emulate.

I hope to prove to each of you that I am willing and able to work hard everyday and that I will continue to fight for the rights and benefits that we have earned and deserve.

In Solidarity,

Chuck Sullivan
President
Associated Fire Fighters of Illinois

Pension Reform Summary
Click HERE to read the summary of the task force analysis and recommendations.
Members of the IARF attend the 2019 AFFI Legislative Conference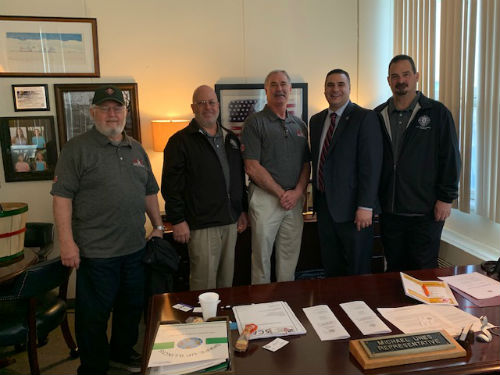 Mike Levine, Dan Oaks, Jay Smith, Rep. Mike Unes and Roger Fardel.
What the IARF Can Do for You!
The IARF was formed in 1982 by retirees with a mission - "Our Mission" is to help and seek ways for the betterment and well-being of Illinois Retired Firefighters and widows/widowers.
IARF Magazine: This is our communication link to you twice a year. We are very proud of our magazine.

Dues are only $10.00 per year, per member. This is mainly to make sure your adddress is up to date. Bulk mail is not forwarded. We want the magazine to get to you!

We are registered in Illinois as a "Non-Profit Organization" with an elected Executive Board and with a set of Constitution and By-Laws, ruled by our Members.

We are proud Members of the AFFI. We send delegates to the Bi-Annual AFFI State Conventions. We pay per capita dues to the AFFI. We have a voice and a very good relationship.

IARF Quarterly Meetings are conducted around the State of Illinois for the convience of our Members.

The July Quarterly Meeting is always held in Peoria along with the Annual Picnic. It is free for you and your spouse or guest. A meal, drinks, and door prizes after the Quarterly Meetings.

Quarterly Minutes are sent out to each Retiree Club Secretary, along with any other information after each Quarterly Meeting is held.

We lobby in Springfield legislatively right along with the AFFI.